After three corners of the Spanish Grand Prix, Haas could not have been better-placed. Kevin Magnussen and Mick Schumacher were seventh and eighth, leading the midfield runners with only cars from the 'big three' teams ahead. But far from producing the team's biggest points haul of the season, Haas left Spain with nothing.
Since Magnussen's fifth place in the season-opening Australian Grand Prix, Haas has now only scored five points across five races and slipped to eighth in the constructors' championship. That's still far better than 2022, but is a disappointing return.
The team's race in Spain started to unravel at Turn 4 right-hander, where Magnussen attempted to pass Lewis Hamilton's Mercedes around the outside. It was a legitimate move, but one that was neither executed with precision nor advisable given there was little chance of being able to stay ahead.
That resulted in Magnussen rattling through the gravel and pitting with a puncture. That left him last, close to a lap down – 72.5 seconds off the lead – and, given the safety car never appeared, with any hope of points extinguished.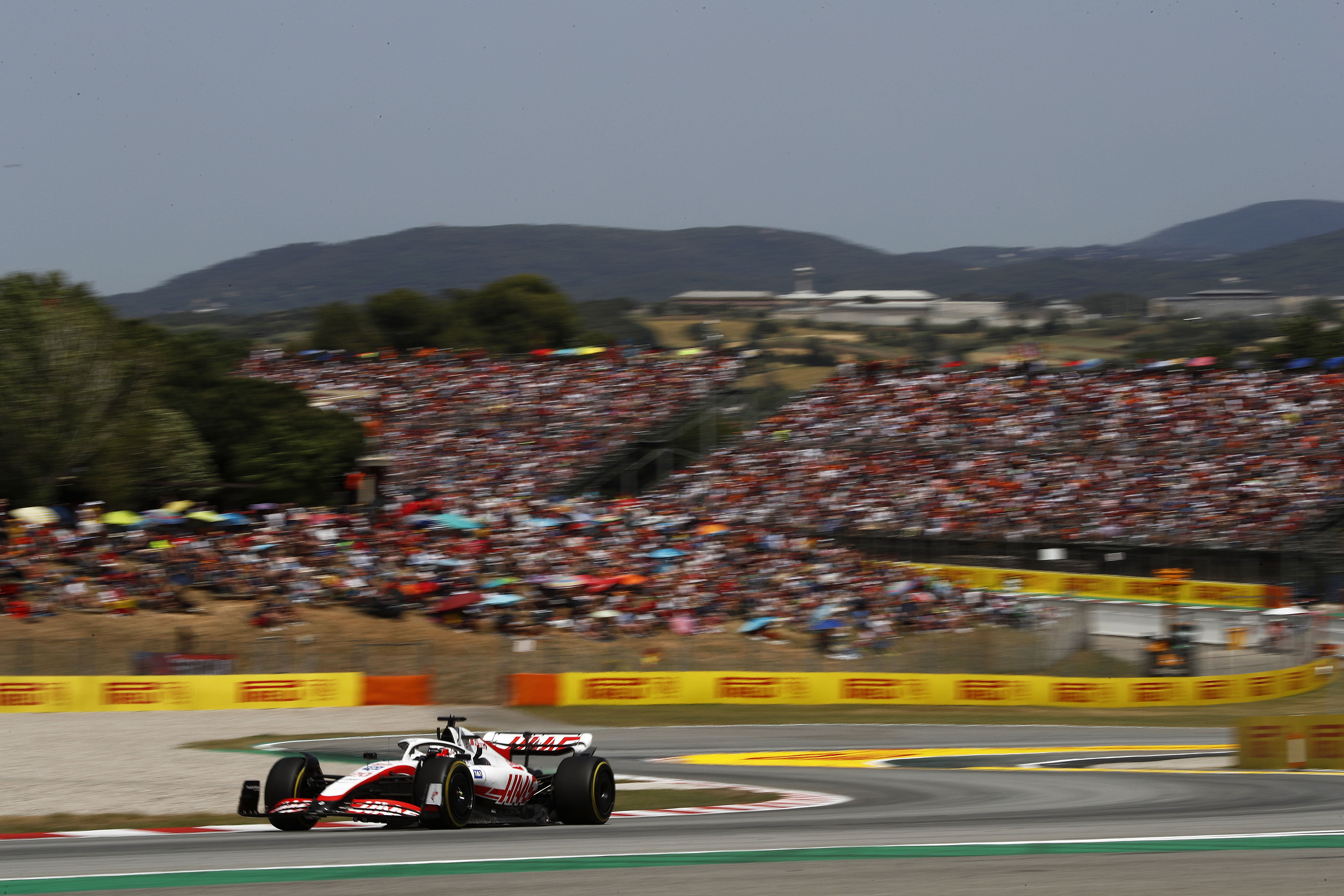 Magnussen completed the race with one further pitstop, becoming the only driver to use the unfancied hard tyre in his final stint. Unfortunately, Haas was one of the teams (along with McLaren, AlphaTauri and Aston Martin) that carried just one set of mediums into the race, meaning it had limited strategic room to manoeuvre. Magnussen lapped over half-a-second per lap slower than Schumacher, who was on mediums that were just one lap younger, during his hard stint.
But Magnussen's pace on mediums in the second stint gave some idea of what might have been possible as he lapped at near-identical pace to Alfa Romeo driver Valtteri Bottas. While that's not a direct comparison given Bottas was on softs and consolidating a strong position rather than chasing, it shows the Haas had good pace. In fact, Magnussen's second stint on mediums was, considering the fuel load, a good one.
Although Magnussen was able to catch and pass Alex Albon early in his hard stint, with the Williams driver struggling badly after sustaining floor damage when he hit a marker bollard at the chicane after his first pitstop, the strategy did not work. Nicholas Latifi, who ran an orthodox three-stopper, caught and passed Magnussen late on, leaving the Dane 17th.
There's little doubt Magnussen would have scored points given a clean race, although staying ahead of Bottas would have been a big ask. But after Turn 4 on the first lap, it was team-mate Schumacher who was the team's main hope.
He held sixth for the first three laps before being passed by Bottas and then charging Alpine driver Esteban Ocon. That left him in eighth, and although he moved up a place when Carlos Sainz spun, that was a place he was always destined to lose again. By the time he made his first pitstop at the end of lap 12, Lando Norris had also overtaken Schumacher.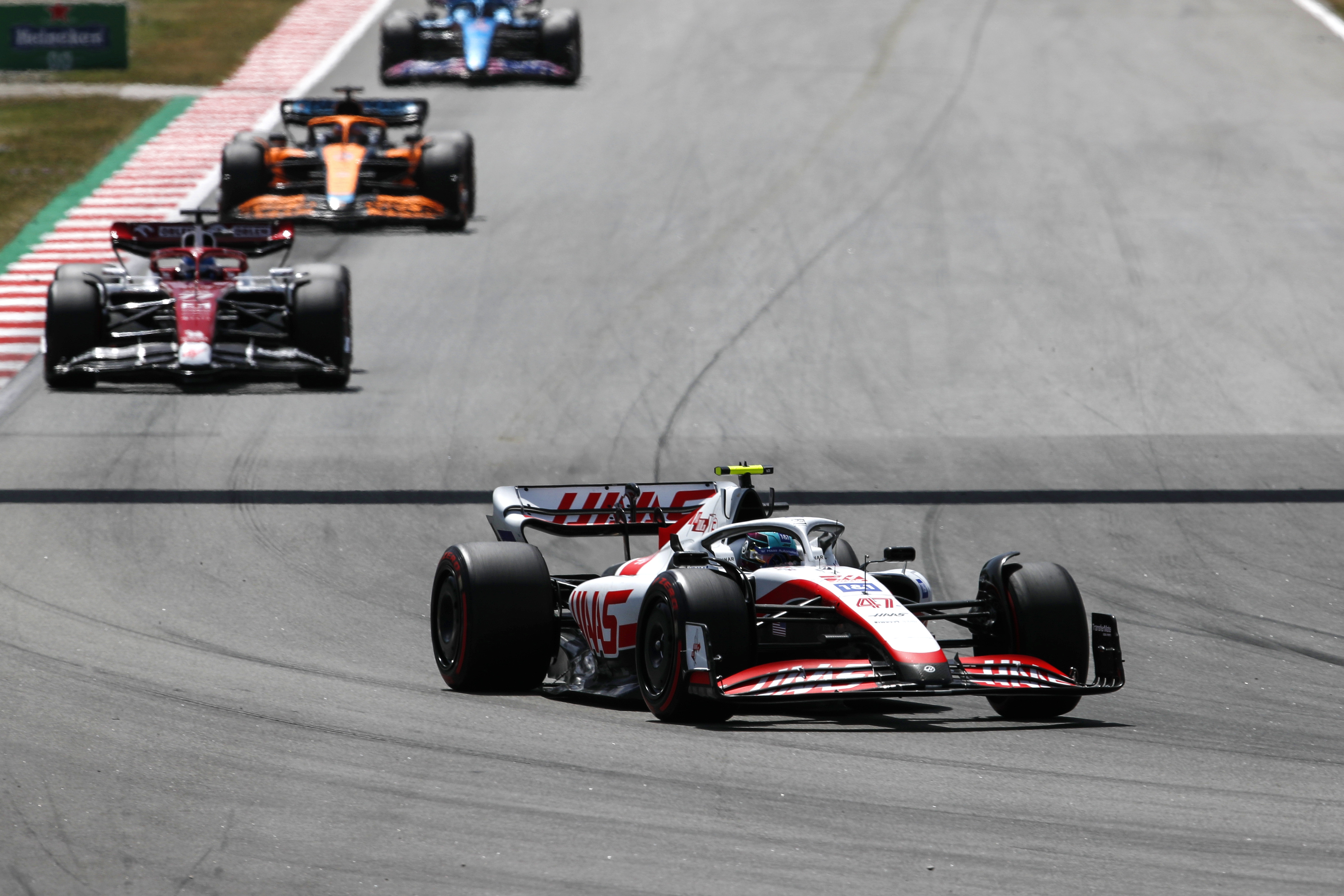 It was already clear Schumacher's hopes of points were under threat. Alpine driver Fernando Alonso stopped two laps earlier and that undercut put him ahead of Schumacher, with AlphaTauri's Yuki Tsunoda and Ricciardo also getting ahead with a one-lap undercut, although the Haas driver soon passed the struggling McLaren.
Schumacher used softs for his first two stints, so switched to his one set of mediums for the third stint with the aim of running to the end. That meant a final stint of 35 laps – the longest of the race.
This did allow him to climb up to ninth place after Alonso made his third stop at the end of lap 53. But in his final 10 laps, Schumacher lost places to Alonso, Tsunoda, Vettel, Ricciardo and Gasly to finish 14th. As his race engineer, Gary Gannon, told him after the chequered flag, "you did your part, you drove really well, sorry we didn't get it quite right".
The strategy did not work well, although had Schumacher opted for a three stopper with three soft stints and one on mediums, his pace suggested he still would have been hard-pushed to score – perhaps contending for the final point with Tsunoda. And Tsunoda was already ahead before their strategies diverged.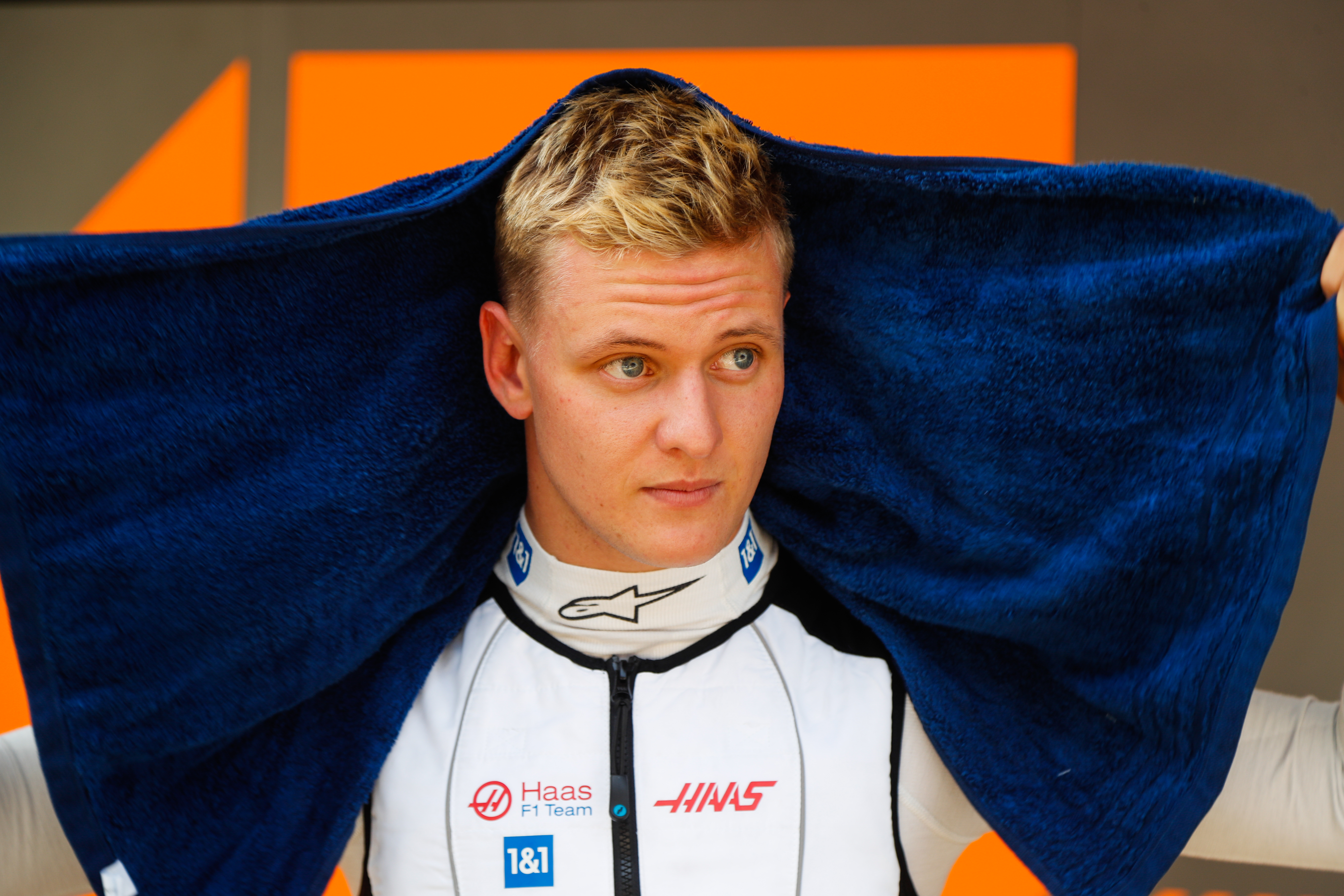 "It's really unfortunate because we had a good start and we were running in a good position and the tyres just didn't last as we expected them to," said Schumacher.
"We stayed on plan A and didn't divert onto something else, which in this case would've been a three-stop strategy. It's quite gutting but we'll analyse it as a team."
With a clean run, Magnussen would almost certainly have scored, and while Schumacher – who is still struggling to match his team-mate – would potentially have missed out, it's clear the team would have given him a better shot had he switched to the three-stopper.
Haas's form was one of the big stories of the early races of the season. But the execution both by team and drivers needs to improve to ensure the team scores the points that its brisk car has the potential to.
---
Magnussen and Hamilton's collision
What they said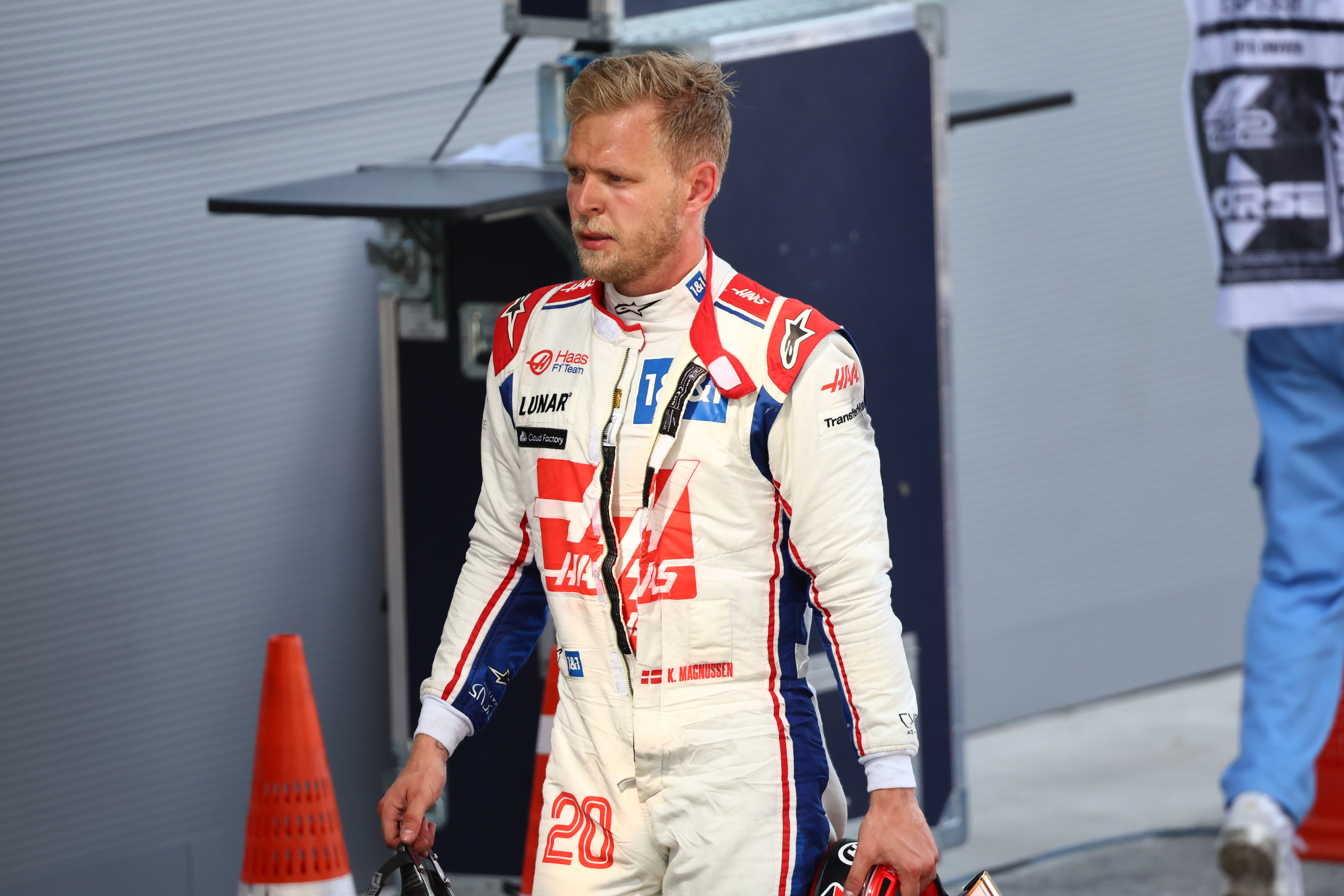 Magnussen was attempting to take sixth from Hamilton around the outside of Turn 4 on the opening lap at Barcelona when they banged wheels, sending the Haas through the gravel and giving the Mercedes a puncture.
Magnussen initially hit out at Hamilton over team radio, saying "Lewis rammed me. He knew what he was doing".But he'd backed down from that significantly when asked about it post-race, replying "nothing" when asked what he'd meant by that comment.
"It was just in the heat of the moment, you say whatever you say, and then you go and look at it and it's often a different story. I move on," Magnussen added, having not watched footage of the incident back at the time of his media session.
Hamilton felt he was an entirely innocent party.
"I was just on a normal line," he said. "I was on the inside and he came out of nowhere and came from behind and hit the side of my car," said the Mercedes driver.
The stewards noted the incident but took no further action.
Our verdict
Scott Mitchell
Speaking on The Race F1 Podcast
I do think that was just Magnussen's fault – because when you watch it from both their onboards, there's no deviation from the Mercedes.
The Haas arrives on the outside and just seems to turn in to the front-left wheel of the Mercedes. Magnussen was ultimately the architect of his own downfall.